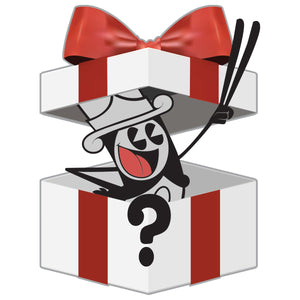 "Stabby" Mystery Gift Bundle
Like surprises? Stabby does too! This special mystery gift bundle will include a fun assortment of Stabby merchandise! Some bundles may include SIGNED items, sold out items, and/or items that have never been released! 
With a life long love of vintage cartoons of times past and the golden era of animation, artist Greg "Craola" Simkins sought to add his own take on this classic "pie eyed" style with the creation of Stabby back in 2013 (but if you ask Greg, he'd say it was closer to 1920 ;). Always with a skip in his step and a smile on his face, Stabby Mack is a friend to anyone who needs a friend and a pat on the back. Don't let his appearance fool you, Stabby has got a heart of gold!
*All mystery gift bundles are a final sale with no exchanges accepted.
**Gift box not included
Shipping: A final shipping estimate will be determined upon receipt of your order and shipping address. Additional shipping charges may apply based on the shipping address and will be billed separately. If the final shipping cost exceeds what was paid, a refund for the difference will be issued. The lead time for shipping may extend beyond 7 business days due to holiday shipping delays beyond our control.